02 Jul 2013
5 Table Top Ideas for DIY Projects
5 DIY Table Top Ideas:
Are you looking for some DIY table top ideas? These are 5 do-it-yourself table top ideas that have inspired me. You can make table tops with just about anything these days, but for my project picks we're using windows, doors, pallets, stencil, and vintage metal signs! For how-to instructions, just click on the image that inspires you!
Pallets:
Pallets, pallets, and more pallets. Just when I thought I had seen them all, I came across this beauty. Matti and Megan from Far Out Flora built this beautiful yet functional succulent pallet table. Now I don't know if you all keep up with the furniture industry, but having plants physically growing in your table top is all the rage right now. Also, succulents are great low maintenance plants for inside and outside, so you can use this table anywhere.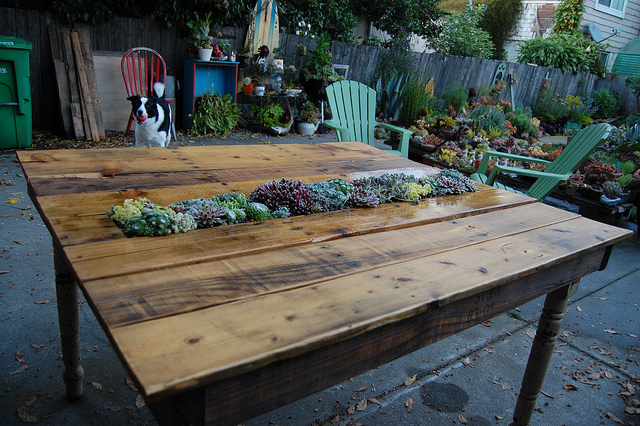 Windows:
Beth, a fellow blogger at Unskinny Boppy, shared her husband's window table masterpiece. I love that they built it with storage space in mind. Using the window as a top exposes the storage space inside the table, which can be utilized as another decorative accent for the room.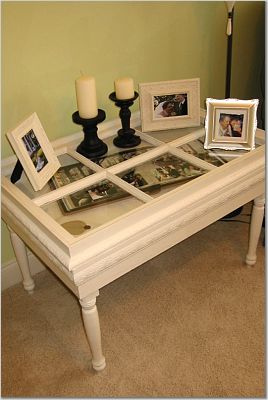 Doors:
An old antique door can be a nice touch in a traditional country style home, but what about on your table? This crafty DIYer, Callie Grose, made herself a country style kitchen island using an old door. And get this…she did it with less than $100. Old doors have a tendency to warp over time, so when you start building your door table try using adjustable legs like our Peninsula Table Leg so that you don't get that unwanted table wobble.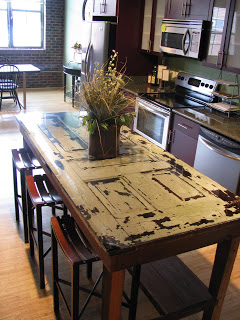 Stencils:
Ashley from Domestic Imperfection took stenciling to a new level by stenciling her dining room table top! A simple project using a free stencil, a little paint, some wood stain, and a brush of sand paper gave this basic dining table a country look.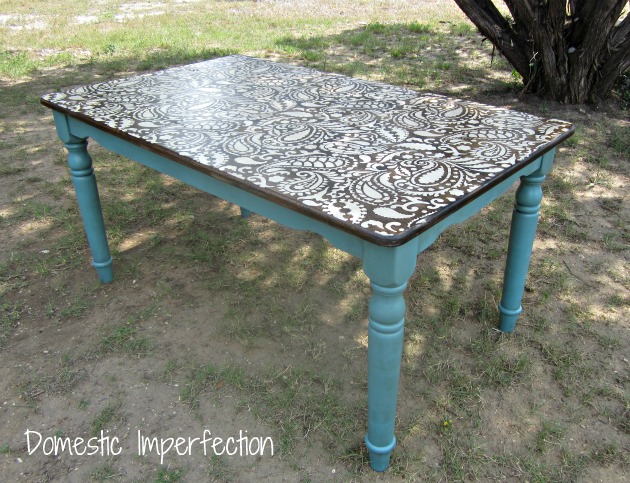 Vintage Signs: 
Chris Heck at Midwest Mantiques took a vintage metal Coca-Cola sign and added a base and hairpin legs to create this one of a kind dining room table. If you collect antique signs this is a great way to turn them into a functional piece of furniture!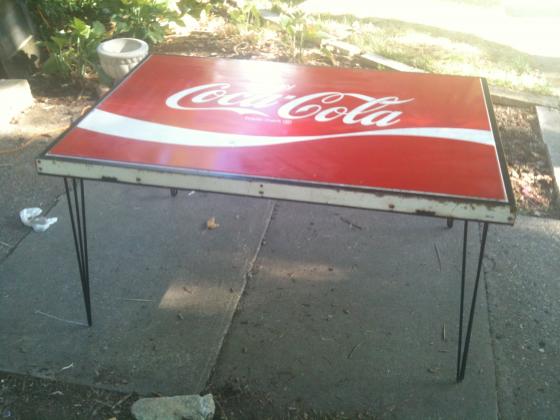 If you tried one of these DIY table top ideas, we would love too see the results! Send us a snapshot of your completed DIY table top project and you and your table may be featured in our blog! Also, if you have any fun DIY table project ideas that you would like to share with us, please send them in! We are always looking for new ideas, and love being inspired by our customers!
Thanks for Reading!