29 Jul 2013
DIY Patio Furniture Ideas!
Do you need new patio furniture, but don't want to spend hundreds of dollars? Well, I have good news! You can build DIY patio furniture for a fraction of what it would cost you to buy it from a retail store! For this blog I have researched tons of DIY patio furniture blogs, and chose the ones that have clear, concise instructions, and won't put a whole in your wallet! I also threw in a few ideas for decorating your patio when you've got all your furniture set up!
Ana White has been gracious enough to share hundreds of her furniture plans to the public for free, so that people like you and me can learn how to build our own furniture. From Ana's blog I specifically chose the Home Depot DIH Adirondack Chair, and the Simple White Outdoor Sofa.
Adirondack Chairs
The Adirondack chair has been a very popular patio item this summer. While they may be comfortable and right in style, they also come with a pretty price tag. In stores, I've never seen a wooden pair like this retail for less than $300. Outrageous, I know. With Ana's instructional video and step-by-step guide, you can build your own for a fraction of the cost.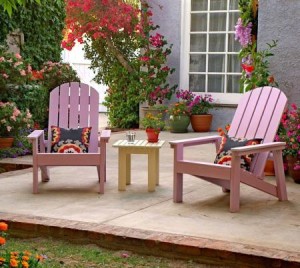 Outdoor Sofa
Next I chose the Simple White Outdoor Sofa, because it compliments the adirondack chairs nicely, it has a basic design, and it can seat multiple people.  This sofa would look great on a patio or in a sunroom. You can create a large seating area by facing the adirondack chairs and sofa towards each other, and then add an outdoor coffee table between them like the pallet one below.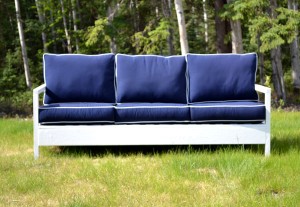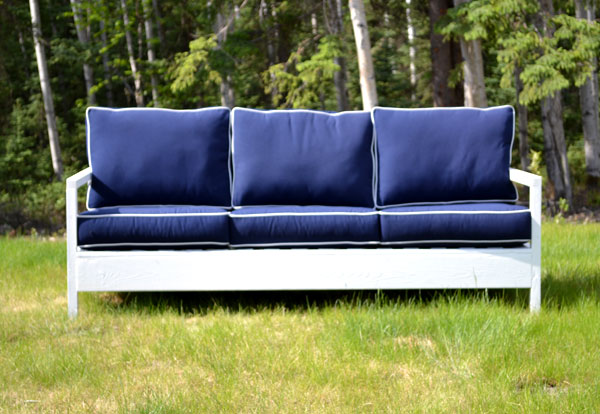 Pallet Coffee Table
In college, I used pallets to make a coffee table that looks almost identical to this one from Joy Ever After's blog. I used Como legs (See picture below) instead of casters because I had it in my apartment living room resting on carpet. My favorite feature on this pallet coffee table is the hidden storage within the actual pallet. It's a great place to store your tablet or favorite books.
Patio Table and Chairs
It can be nice to enjoy a meal outside during those warm seasons, so I wanted to include an elegant patio table with chairs.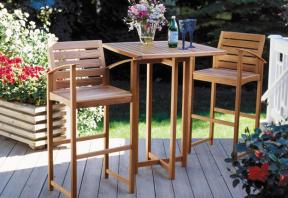 These bar-height table and chairs come courtesy of the Canadian Home Workshop. Although you see two chairs displayed in the photo, this wood oak table can seat four people comfortably.
And when you are done building your DIY patio furniture, add a few unique decorative elements…
Decorative Accents
How about a romantic outdoor candle lit chandelier to go over your patio table? Diane from In My Own Style shows us how she made it!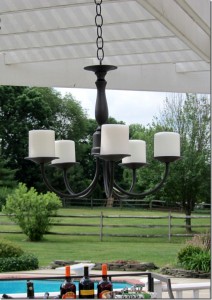 I've actually made one of these for my patio, and I love it! Have a romantic outdoor dinner with the Hubby by setting the mood with a candle lit chandelier. Once you have added some lighting, sprinkle a few natural elements around the patio. Potted plants are essential to any patio decor, but what about plant wall art? Cara and Will Meyers, will show you how to make your very own living succulent wall art.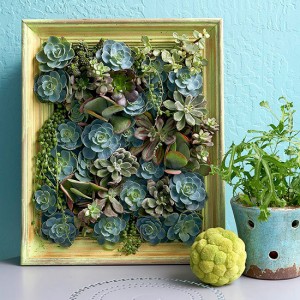 Now that you have all of your diy patio furniture plans, start building! When you are done furnishing your patio, send us a pic of your results!
As always,
thanks for reading!