05 Apr 2013
Sedona Series Cabinet or Furniture Legs. Which Leg Suits Your Fancy?
Sedona Series Cabinet or Furniture Legs
Have you been looking for a distinctive furniture or cabinet leg? Replacementtablelegs.com offers the Sedona Series cabinet or furniture legs in 8 unique styles that are sure to add some contemporary character to your next DIY furniture or cabinet project. The Sedona Legs are available in a 4" or 6" height, which makes them compatible with a wide variety of furniture pieces such as, cabinets, sofas, chairs, entertainment systems, coffee tables, end tables, desks, and ottomans. Each sedona series cabinet or furniture leg comes with their own screw on mounting plate with M10 thread and metal insert to make attachment that much easier. Discover which Sedona leg best suits your style and personality by reading below…
This is a SlimLeg-Kim personal favorite. I want to put it on everything, and here is why. Designwise it is very simple, but it's aluminum, slanted body that tapers down to a 1-3/4" foot will provide an elegant mid-century modern accent to whatever furniture piece you add it to without taking away from the actual furniture piece itself. 

This style of cabinet or furniture leg can be found on a lot of contemporary entertainment systems, end tables, and platform beds. It's tapered, aluminum body blends with a lot of todays modern style designs.
The Sedona Style #3 is one of our more feminine models. It has a slight hourglass design with a matte aluminum finish that allows it to blend with both the modern and traditional furniture and cabinet styles.
Designwise the Sedona Style #4 is always a safe choice, because it's Aluminum finish matches everything, and it's modernized traditional form can be applied to basically any interior design or furniture piece.
The Sedona Style #5 leg is another favorite of mine. It is almost identical to the Sedona Style #1, it just has a straight tapered body instead of a slanted one. This leg design is currently very popular for all mid-century modern furniture pieces. Give grandma's old credenza some life again and "upcycle" it by replacing those old wooden legs with the Sedona Style #5 aluminum legs.
This leg has a very practical design, which is commonly seen on entertainment systems and shelving, but if you attach it to a basic wooden coffee table it suddenly becomes a more modern industrial masterpiece.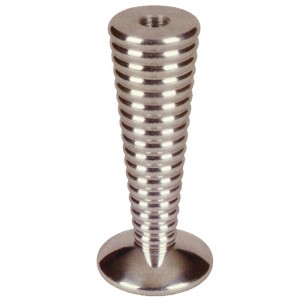 A 1-1/4" tapered machine screw style body makes this a more eclectic leg design compared to the rest of the Sedona Legs. Perfect if you prefer a bold, unique style with lots of character.
This model features a 1-7/16" top that tapers down to a 1-3/4" base. The Sedona Style #8 comes with an aluminum finish and a sleek modern design that matches a wide variety of furniture and cabinet styles, but also adds a contemporary accent.