17 Dec 2012
Table Leg Height Differences for Desks, Counters, and Bars
When choosing the right table leg heights, the decision is really determined by your lifestyle and the type of environment the table will be used in. Are you a family of 4 with young kids, a bachelor who enjoys throwing wild parties, or maybe a newlywed couple who just moved into their first place? Whatever your current lifestyle is, the height of your table needs to function in accordance with it.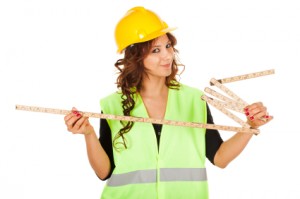 Scale/Design:
Scale and room design are always important factors when adding new furniture to a space. How big is the room you're putting the table or bar into? How tall is the other furniture in the room? Is the table or bar you're creating going to match the design of the room it's in? If you have a small eat-in kitchen, a bar-height table may be the best way to utilize the space. Perhaps you want to build a kitchen table off of your kitchen island. That project would require counter-height legs. The table leg height can affect the overall function and design of the space.
Table Leg Height:
So let's talk desks vs. tables…
The table leg height for tables and desks are relatively the same (28"-30"). The difference is in their functions. Desks are used primarily for work and by one person at a time. They typically have built-in storage for organizational purposes. However, a traditional table, such as a kitchen table, is most commonly used for prepping, serving, and eating food with multiple people. Sometimes it can also be used for doing arts and crafts or helping your children with their homework.
 Table Desks?
As modern technology allows us to store all of our important documents and tools on our computers and cellphones, a need for desk storage is gradually disappearing, and people have begun shopping for more basic desk solutions, such as Table Desks. This design usually consists of a small table with minimal storage or none at all.
Counter Height:
Counter-height legs are typically between 34" and 36" tall. While they are most commonly used to support a counter top, they have also been used on tables. In college, I used a counter-height table as a kitchen island for extra prepping space, but many use them for dining purposes as well. An advantage for using counter-height legs on a table is that they provide extra leg room for tall people. When compared to a standard table-height, a counter-height table also creates an illusion of using less room space.
Bar Height:
Bar-height legs average between 40" and 43" tall. Bar-height tables are very popular with bars, cafes, and night clubs. They are great to use at social events where people are moving around a lot. Bar-height tables allow guests to stand and socialize while also providing a place to put their drink and food. If parties aren't really "your thing", bar-height tables are also great for small patios and are perfect as a dining table for small eat-in kitchens. Their tall, narrow design gives an illusion of added room height, while only using a few feet of space.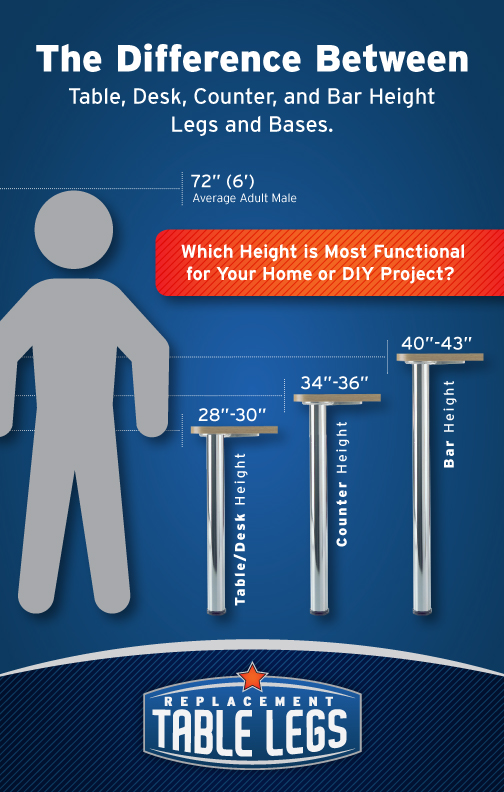 Choosing a table leg height seems like a no brainer, until you understand the functions of each leg height and compare them to the space and project at hand. It is important to consider all the factors involved in creating a space that fits your lifestyle and room design. To find the perfect table leg height for your next table project, visit our website: replacementtablelegs.com and explore our large selection of top quality table legs.
**If you have any questions concerning table leg height that were not answered in this article feel free to email us at kim@replacementtablegs.com